Polietilena terminasi Amine-Polyethermaine ZD-4000 ditandai dengan mengulangi unit oksipropilen di tulang belakang. Polyether polyamine ZD-4000 adalah amina primer difungsional dengan berat molekul rata-rata sekitar 4000. Kelompok amina primer terletak pada atom karbon sekunder pada akhir rantai polieter alifatik. Ini digunakan sebagai bahan utama dalam perumusan polyurea RIM, dan digunakan pada sistem tenaga angin, pelapis dan industri perekat.
Struktur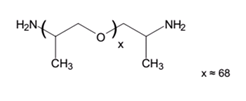 Aplikasi
Bahan utama dalam perumusan polyurea RIM
Co-curing agent dalam sistem epoxy yang membutuhkan peningkatan fleksibilitas dan ketangguhan
Flexibilizer polimer umum
Manfaat
Relatif rendah viskositas, warna dan tekanan uap
Peningkatan fleksibilitas dari tulang punggung polieter dengan berat molekul tinggi
Tingkatkan kekuatan kulit
Sales Specifications

Items

Values

Appearance




Coloress to pale yellow transparent liquid




Color, Pt-Co




25max.




Primary amine, % of total amine

99min.




Total amine, meq/g




0.45-0.52




Water, wt%




0.25max
Typical Properties

Items




Values




AHEW(Amine hydrogen equivalent wt.), g/eq

1000

Equivalent wt. with isocynates, g/eq




2000




Viscosity, cSt,

25°C (77°F)




877

Density, g/ml(ib/gal),

25°C




0.994(8.29)




Flash point, PMCC,

°C (°F)




227(440)



Dikemas / dikirim
Drum 200kgs bersih wt.
Tangki Iso kira-kira 2,3,000.00kgs net wt.
IBC 1000kgs bersih wt.
Kategori Produk : Polieter dihentikan amina