Polietilen / Polieteramin ZD-123 yang diakhiri dengan amina, yang serupa dengan polieter polietilena D-230, adalah amina primer difungsional yang memiliki berat molekul rata-rata sekitar 230. Ini digunakan untuk agen pengawet epoksi, tenaga angin, sistem poliurea, industri pelapis Dan perekat. Kelompok amina-nya berada pada atom karbon sekunder di ujung rantai polieter alifatik. ZD-123 amina berwarna terang, viskositas rendah dan tekanan uap, tinggi kandungan amina primer, dan benar-benar tercampur dengan berbagai pelarut, termasuk air.
Struktur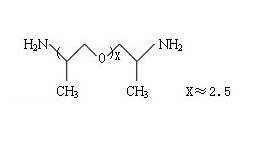 Aplikasi
Epoxy curing agent
Bereaksi dengan asam karboksilat untuk membentuk perekat meleleh panas
Bereaksi cepat dengan isosianat.
Garam dapat terbentuk dengan mudah untuk penggunaan surfaktan
Manfaat
Viskositas rendah, warna dan tekanan uap
Sepenuhnya bercampur dengan berbagai macam pelarut, termasuk air
Menyediakan lapisan pelapis, coran tahan, dan perekat yang tangguh, bersih, tahan benturan
Pelapis bebas dari perona pipi permukaan yang lazim dengan banyak agen pengawet amina
Sales Specifications

Items

Values

Appearance




Coloress to pale yellow transparent liquid




Color, Pt-Co




25max.




Primary amine, % of total amine




95min.




Total amine, meq/g




8.1-8.7




Water, wt%




0.25max
Typical Properties

Items




Values




AHEW(Amine hydrogen equivalent wt.), g/eq




60




Equivalent wt. with isocynates, g/eq




120




Viscosity, cSt,

25°C (77°F)




9.5




Density, g/ml(ib/gal),

25°C




0.948(7.90)




Flash point, PMCC,

°C (°F)




121(250)




pH, 5% aqueous solution




11.7




Refractive index, nD20

1.4466




Vapor pressure, mm Hg/°C




1/100

10/133
Dikemas / dikirim
Drum 195kgs bersih wt.
Tangki Iso kira-kira 2,3,000.00kgs net wt.
IBC 942kgs bersih wt.
Kategori Produk : Polieter dihentikan amina